Commonweal Magazine: "Leap-Frogged? The Protestant Reception of Nostra Aetate"
Associate Director Ulrich Rosenhagen published a commentary in February 26, 2016 issue of Commonweal Magazine, titled: " Leap-Frogged? The Protestant Reception of Nostra Aetate."
"Many Protestant theologians of 1960s viewed Vatican II as a whole in overwhelmingly positive terms, as a transformative divine event with implications not only for Rome but for the whole Christian Church; even the neo-orthodox theologian Karl Barth—arguably the most influential Protestant theologian of the twentieth century—praised much of the council's work. When it came to Nostra Aetate, however, Protestant commentators weren't so sure. Barth was disturbed by aspects of the declaration, and Protestant theologians in Europe and the United States, following his lead, tried to dodge it. Indeed, for the first twenty years after the council, no official Protestant church statement explicitly mentioned it. Why did a text so significant to the history of Catholicism get such a muted reception in Protestant thought and practice? " [read more]
The Chronicle of Higher Education: "The Value of Teaching Religious Literacy"
Associate Director Ulrich Rosenhagen published a commentary in the December 2, 2015 issue of The Chronicle of Higher Education, titled: "The Value of Teaching Religious Literacy."
"Public and secular colleges — where finding and facilitating space for diverse religious expressions is understandably tricky — have a crucial role to play here. The secular, pluralistic campus is the ideal habitat to help students understand how religious ideas and identities work, how religious worldviews both open and constrain (geo-)political interaction, and how people of different core values and convictions can peacefully coexist. Colleges need to invest more in their students' religious literacy — not proselytizing, not affirming any particular faith — but simply teaching vital competence about religion and its impact on global affairs that will prepare students for their future while enlightening our civic discourse along the way. " [read more]
One Abraham or three?
Associate Director Ulrich Rosenhagen published a piece in the December 9, 2015 issue of The Christian Century, titled: "One Abraham or three? The conversation between three faiths."
"Can 'Abrahamic' replace 'Judeo-Christian'? Can a paradigm—one that intertwines the three great prophetic traditions in their faith in one God, divine creation, human dignity, and eschatological justice—express the civic faith of the American people? Can it do so without sacrificing the integrity of these interwoven yet different traditions? The growing use of the term Abrahamic suggests that many think it can. In contemporary academic as well as nonacademic discourse, the biblical patriarch Abraham is frequently invoked as a crucial figure binding the sacred narratives of Jews, Christians, and Muslims. Despite the different stories these siblings in faith tell about him, Abraham is essential in the theological concepts, rituals, and liturgies of his children." [read more]
The Lubar List: 77 UW–Madison Spring 2016 courses with a component of religion, spirituality, or mythology
Throughout human history, societies and cultures have been influenced by systems of belief and spirit.
Many instructors at the University of Wisconsin–Madison, understanding how people have considered religion to be a significant motivator in decision-making, have developed courses to explore how these belief systems affect our world.
Some courses are entirely devoted to the in-depth study of religion itself; others just touch upon religion as one of many factors related to their topic area.
Together, this list of courses for the coming semester gives us a sense of how broadly—across more than 35 departments and programs—the study of religion and spirituality is integrated into this campus's academics. That is the goal of the Lubar List: to appreciate the value of religious literacy in preparing for life in the global community after college.
If this sampling has caught your interest, take a moment to view the PDF which lists course title, description, class time, breadth category, and more. Please talk to your advisor about which of these courses are the right fit for your academic path.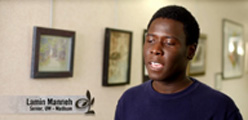 Watch the video introduction to the Lubar Institute.
Sign up for the mailing list