Sponsored Events, 2007-2008

Thursday, September 27, 2007 7:30-9:30 P.M.
Anderson Auditorium, Predolin Hall
Edgewood College
1000 Edgewood College Drive

Ranya Idliby, Suzanne Oliver and Priscilla Warner met each other after September 11, 2001, to develop an interfaith children's book treating the connections between Judaism, Christianity, and Islam. They soon realized that they had first to learn about each other's faiths, dropping their stereotypes in the process. Their best-selling collaboration, The Faith Club, documents their experiences.
Presentations by the authors followed by questions and discussion
Free and open to the public
Friday, September 28: Morning workshop with members of local Jewish, Christian, and Muslim communities; afternoon workshop with students from Edgewood College and UW-Madison.
Sponsored by the Department of Religious Studies, Edgewood College, with the support of the Lubar Institute, the Board of Church & Society of the Wisconsin Conference of the United Methodist Church, the Islamic Community of Madison, the Madison Muslim Dawa Circle, the Monona United Methodist Church, the Muslim Students' Association at UW-Madison, the School of Integrative Studies and the Human Issues Studies Program at Edgewood College, Gary and Anna Skiles, and Anonymous.

Lubar Institute co-sponsored a conference on "Al-Andalus: Cultural Diffusion and Hybridity in Iberia (1000-1600)," October 18-20, 2007. For more information, check the Conference web page.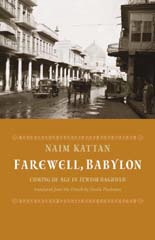 "From Baghdad to Montreal: Crossing Cultures"
An event in the Biennial Festival of the Center for the Humanities: "Legacies of Al Andalus: Islam, Judaism & the West"
Oct 17, 4:00-5:30
Room L150, Chazen Museum
800 University Avenue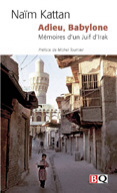 "L'écrivain francophone. Ce passeur inlassable de cultures"(Lecture in French)
Le jeudi 18 octobre de 4:00-5:30
A la maison française (633 rue N. Frances)
At the French House 633 N. Frances Street

Novelist, essayist, short story writer and critic, Naïm Kattan (an inhabitant of Quebec of Iraqi origins and Jewish-Arabic heritage) is the author of forty works, translated in several languages. He is a Visiting Professor at the University of Quebec in Montreal. He has received honorary doctorates from Middlebury College in Vermont and the University of Novi Sad in Serbia, and several major prizes, including the Lauréat Athanase David and the French Légion d'honneur.

His books trace his journey from Baghdad to Montreal, a trajectory of identity in evolution, nourished by memories, promises and movement. Condemning the fixity of secure places, rigid borders, and immutable identities, Naïm Kattan has continued to celebrate -for more than a half-century- cultural diversity, multiple affiliations and nomadic identity, making him a universal migrant writer.

Both lectures are co-sponsred by AIEQ, The Center for the Humanities, the Department of French and Italian, the Global Studies Program, and the Lubar Institute

A Symposium in Honor of the Centennial of Lutheran Campus Ministry in Madison
Saturday, November 3, 2007, 10:00 A.M.-6:00 P.M.
The Lutheran Campus Center
325 Mills Street

Presenters:
Dr. Irfan Omar , Marquette University
Dr. Jonathan Schofer, Harvard University
Dr. Ann Fritschel, Wartburg Seminary
To register for lunch with one of the presenters, call 257-7178.
Sponsored by Lutheran Campus Ministry, the Naeseth Endowment, and LISAR.

Leonard Greenspoon
Philip M. and Ethel Klutznick Chair in Jewish Civilization, Chair of the Department of Classical and Near Eastern Studies, and Professor of Theology at Creighton University

Monday, November 5, 2007, 7:30 P.M.
VandeBerg Auditorium, Pyle Center
702 Langdon Street
FREE AND OPEN TO THE PUBLIC

Professor Greenspoon is especially well- known for evaluating the history of scholarship on the Hebrew Bible. He is the editor of Forum, a monthly online publication sponsored by the Society of Biblical Literature for its members. He has published numerous articles on the Septuagint, the history of biblical scholarship, and the role of the Bible in popular culture.

LISAR is pleased to fund this event in cooperation with the Department of Hebrew and Semitic Studies. For further information, contact the Department by email or phone: (608) 262-3204.

Phillip Ratner
Wednesday, November 7, 2007, 5:30-7:00 PM
Room L140, Chazen Museum of Art
800 University Avenue

FREE AND OPEN TO THE PUBLIC
On the eve of dedicating his sculpture "The Children of Abraham" to the Lubar Institute and the University of Wisconsin-Madison, internationally acclaimed artist Phillip Ratner ruminates on the great Western tradition of artistically interpreting the scriptures, a tradition that he feels has atrophied over the past few centuries and that he has personally sought to invigorate.
To see streaming videos of the lecture, click here.


November 7-9, 2007

Speakers:
Hamid Naficy (Northwestern University)
Finbarr Barry Flood (New York University)
Jessica Winegar (Temple University)
Mazyar Lotfalian (2006-07 Fellow at the Center for Cultural Studies, UC-Santa Cruz)
For more information, see http://www.visualculture.wisc.edu/

April 17-18, 2008
BioPharmaceutical Technology Center Institute (BTCI)
5445 East Cheryl Parkway
Madison, Wisconsin, USA 53711

Speakers include:
John Haught, Ph.D., Distinguished Research Professor, Senior Fellow, Science and Religion, Georgetown University
James Hughes, Ph.D., Executive Director, Institute for Ethics and Emerging Technologies; Associate Director, Institutional Research and Planning and Visiting Lecturer in Public Policy, Trinity College
Kristen Jenkins, Ph.D., Program Manager, Education and Outreach Group, National Evolutionary Synthesis Center
Ronald L. Numbers, Ph.D., Hilldale and William Coleman Professor of History of Science and Medicine, UW-Madison
Steven Paulson, Executive Producer, To the Best of Our Knowledge, Wisconsin Public Radio,
Eugenie C. Scott, Ph.D., Executive Director, National Center for Science Education
Robert Streiffer, Ph.D. Associate Professor, Department of Medical History and Department of Philosophy, UW-Madison

For more information, see the BTCI's Bioethics Forum Web site.
Sponsored by BTCI and numerous other contributors. LISAR is a Gold Sponsor