Books and Publications

The Lubar Institute has supported publication of the following books, which bear the Institute's logo:


GODS IN AMERICA:
RELIGIOUS PLURALISM IN THE UNITED STATES
Charles L. Cohen and Ronald L. Numbers, eds.
Oxford University Press, 2013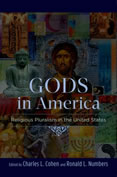 Religious pluralism has characterized America almost from its seventeenth-century inception, but the past half century or so has witnessed wholesale changes in the religious landscape, including a proliferation of new spiritualities, the emergence of widespread adherence to "Asian" traditions, and an evangelical Christian resurgence. These recent phenomena — important in themselves as indices of cultural change — are also both causes and contributions to one of the most remarked-upon and seemingly anomalous characteristics of the modern United States: its widespread religiosity. Compared to its role in the world's other leading powers, religion in the United States is deeply woven into the fabric of civil and cultural life. At the same time, religion has, from the 1600s on, never meant a single denominational or confessional tradition, and the variety of American religious experience has only become more diverse over the past fifty years. Gods in America brings together leading scholars from a variety of disciplines to explain the historical roots of these phenomena and assess their impact on modern American society.
Hardcover | 416 Pages | 6-1/8 x 9-1/4 inches | ISBN: 9780199931903
buy from Oxford | Amazon | Barnes & Noble
Paperback | 416 Pages | 6-1/8 x 9-1/4 inches | ISBN: 9780199931927
buy from Oxford | Amazon | Barnes & Noble

THEOLOGY AND THE SOUL OF THE LIBERAL STATE
Leonard V. Kaplan and Charles L. Cohen, eds.
Lexington Books, 2010
Graven Images, Leonard V. Kaplan, Series Editor

Rising calls in both the United States and abroad for theologizing national agendas have renewed examinations about whether liberal states can accommodate such programs without either endangering citizens' rights or trivializing religious concerns. Conventional wisdom suggests that theology is necessarily unfriendly to the liberal state, but neither philosophical analysis nor empirical argument has convincingly established that conclusion. Examining the problem from a variety of perspectives including law, philosophy, history, political theory, and religious studies, the essays in Theology and the Soul of the Liberal State suggest the possibilities for and limits on what theological reflection might contribute to liberal polities across the globe.


RELIGION AND THE CULTURE OF PRINT IN MODERN AMERICA

Charles L. Cohen and Paul S. Boyer, eds.
University of Wisconsin Press, 2008
Print Culture History in Modern America
James P. Danky, Wayne A. Wiegand, and Christine Pawley, Series Editors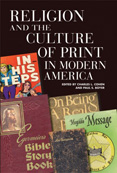 Religion and the Culture of Print in Modern America explores how a variety of print media—religious tracts, newsletters, cartoons, pamphlets, self-help books, mass-market paperbacks, and editions of the Bible from the King James Version to contemporary "Bible-zines"—have shaped and been shaped by experiences of faith since the Civil War. Edited by Charles L. Cohen and Paul S. Boyer, whose comprehensive historical essays provide a broad overview to the topic, this book is the first on the history of religious print culture in modern America and a well-timed entry into the increasingly prominent contemporary debate over the role of religion in American public life.


"A fascinating foray into the modern religious worlds made by the word."
—Peter J. Thuesen, Indiana University-Purdue University Indianapolis

OCCASIONAL PAPERS
Essays, pamphlets, and other items resulting from Lubar Institute events and projects.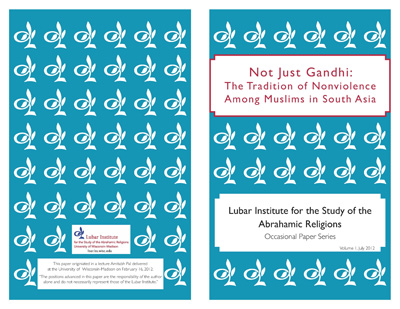 #1: Not Just Gandhi: The Traditions of Nonviolence Among Muslims in South Asia
Amitabh Pal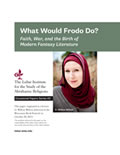 #2: What Would Frodo Do? Faith, War, and the Birth of Modern Fantasy Literature
G. Willow Wilson