Dalia Mogahed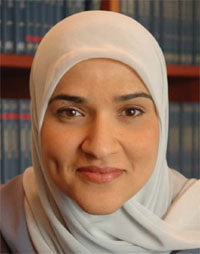 Dalia Mogahed
"Who Speaks for Islam?"

Tuesday, April 14, 2009
7:30pm
Morgridge Auditorium, 1100 Grainger Hall
975 University Avenue
Dalia Mogahed is a Senior Analyst and Executive Director of the Gallup Center for Muslim Studies, a non-partisan research center dedicated to providing data-driven analysis on the views of Muslim populations around the world. With John L. Esposito, Director of the Prince Alwaleed Bin Talal Center for Muslim-Christian Understanding at Georgetown University, she is coauthor of Who Speaks for Islam? What A Billion Muslims Really Think. Her analysis has appear in The Wall Street Journal, Foreign Policy magazine, the Harvard International Review, the Middle East Policy journal, and many other academic and popular journals. She has been featured on Charlie Rose, CNN, BBC, Al Jazeera, NPR, and many other global media outlets.
As part of her visit, Mogahed will hold conversations with small groups of faculty, journalists, and members of the greater Madison community.