LISAR and "411 on Faith" in NYC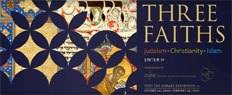 Charles L. Cohen
"Jews and Muslims in Christian America"
January 20, 2011, 6:30 PM

Mid-Manhattan Branch, New York Public Library
455 Fifth Avenue (at 40th Street)
New York, NY 10016-0122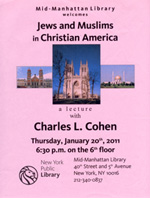 The settlement of Anglo-America primarily by Protestants has meant that subsequent denizens of the United States have had to operate in a religious culture with Christian ground rules. In this public lecture, LISAR Director Professor Charles Cohen discusses some of those rules, how Jews and Muslims have had to accommodate themselves, and the implications that the norms and accommodations have for American society.
Professor Cohen's lecture is part of the New York Public Library's "The 411 on Faith: Communities in Dialogue," a series of moderated conversations, held in selected neighborhood branch libraries, about belief, worship, and religious practice in New York City. LISAR is a partial sponsor of "The 411 on Faith" lecture series.
"The 411 on Faith" is a part of NYPL's larger "Three Faiths," program, which also includes an exhibition of 200 rare and precious works of art and a range of children's programs in addition to the lecture series.
Learn more about: