Sponsored Events, 2010-2011

"Islam's Views of Other Religion"

Aisha Al-Mannai
October 26, 2010, 4:00 pm
Pyle Center (directions/parking)

The lecture will be in Arabic with English translation.
Professor Aisha Al-Mannai, the first female dean of the College of Shari'a and Islamic Studies at Qatar University, has published on such subjects as Islamic mysticism and morality, and the foundations of Islamic creed from the Qur'an and the Sunna. She serves on the Transitional Arab Parliament, the Advisory and Executive Committee of the College of Islamic Studies, Qatar Foundation for Education, Science and Community Development, and the Board of Directors of the (Qatar) National Commission for Human Rights. In 2007, Egyptian President Hosni Mubarak honored Dr. Al-Mannai in recognition of her contributions to Islamic studies.
This lecture is co-sponsored by the Division of International Studies at the University of Wisconsin-Madison.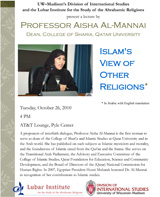 November 18, 2010
Ambrosia Co-op in Madison
A warm, welcoming dinner among mainly Muslim and Jewish students took place on November 18, 2010 at the Ambrosia Co-op in Madison. The Muslim-Jewish Volunteer Initiative, a student organization on campus, organized the Coexistence Dinner which brought together over forty Muslim and Jewish students for meaningful dialogue. We were divided into groups and talked about any learning experiences and memories involving faith, gender, and race to help us learn and gain perspective from our unique backgrounds. We also talked about the conflict in the Middle East, which did not incite harsh feelings and instead everyone felt comfortable and relaxed to share their views. Students left the dinner feeling inspired to establish a meaningful coexistence and pleased for having made new friends.

The Truths We Tell: Reporting on Faith, War and the Fate of Iraq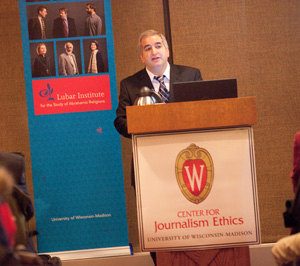 Anthony Shadid
December 2, 2010
4:30-6 pm, Alumni Room, Pyle Center
photo by Lukas Keapproth
Hear Shadid speak on Wisconsin Public Radio's "Here on Earth"


Read local media coverage of Shadid's visit:

LISAR is proud to co-sponsor a visit from Anthony Shadid, a two-time Pulitzer Award winner and alumnus of the University of Wisconsin-Madison. Shadid will meet with students and deliver a lecture on the topic of media and religion.
Shadid is a foreign correspondent for The New York Times and is stationed in Baghdad. Fluent in Arabic, he has focused much of his work on the experiences of the Iraqi citizens, which he captured in his highly acclaimed book, Night Draws Near: Iraq's People in the Shadow of America's War. Shadid has been reporting from the Middle East for over 15 years for the Boston Globe, Associated Press, Washington Post, and now The New York Times.
In co-operation with the Center for Journalism Ethics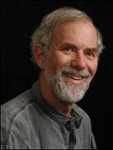 David Laitin
James T. Watkins IV and Elise V. Professor of Political Science, Stanford University
February 9, 2011, 1:30 PM
422 North Hall
1050 Bascom Mall

Professor Laitin received his Ph.D. at the University of California, Berkeley, working under the direction of Ernst Haas and Hanna Pitkin. His most recent research, published last November in the Proceedings of the National Academy of Sciences, is the first to identify religion – rather than race or country of origin – as the source of discrimination in France.
This free and public lecture is organized by the Department of Political Science and co-sponsored by the Lubar Institute for the Study of the Abrahamic Religions and the University Lectures Committee.

Thursday, April 14th
7-9:30 p.m.
The Crossing, 1127 University Avenue
The Coexistence Seder, a twist on the traditional Passover meal, brings Muslims, Jews and Christians together for a night of dialogue and delicious food. Using themes from the Seder that resonate in all three faiths, we'll engage in conversations that help us learn about each faith and build strong interfaith cooperation. This event is coordinated by the the Muslim-Jewish Volunteer Initiative and is co-sponsored by LISAR.