"Jerusalem's Sacred Esplanade"

Panelists will discuss themes from Where Heaven and Earth Meet, recently published by the University of Texas Press.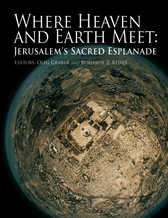 One of the most extraordinary spaces on earth, Jerusalem's Esplanade has been regarded as sacred for about three millennia. For Judaism, it is the holiest space, where the Solomonic and Herodian Temples once stood and where, in the messianic age, the Temple is to be rebuilt at God's behest. For Christendom, it is the site of the Herodian Temple, which Jesus repeatedly visited, foretelling its destruction and announcing the advent of a new, spiritual worship of God. For Islam, it is the holy space to which the Prophet Muhammad traveled on his mystical Night-Journey and Ascension, and which holds the Dome of the Rock and the Aqsa Mosque.
Tuesday, September 28, 2010
7:30-9:00 PM
Moderator: Professor Charles Cohen, Director, LISAR
Welcome: Paul DeLuca, Provost, UW-Madison
Introductory Remarks: Kjell Magne Bondevik
Due to President Obama's expected visit to the University of Wisconsin-Madison campus on September 28, "Jersualem's Sacred Esplanade" will now be held at the Fluno Center (directions/parking). Please note that the President's visit will mean some streets in the vicinity of the Fluno Center will be shut down for security reasons – the most updated list of affected areas is available on the UW's Web site.
Partial Funding Provided by the Evjue Foundation