Sponsored Events, 2011-2012

October 6, 2011 • 7pm
Vandeburg Auditorium, Pyle Center
Luis Bernabé, Professor of Arabic and Islamic Studies at the University of Alicante in Spain, is one of the foremost experts on Spanish Muslims in the Middle Ages and Early Modern period. His work focuses mainly on the period from the late 15th century to well beyond the 1609-14 expulsion of the "Moriscos" from Spain, following through to their resettlement particularly in North Africa and recovering texts written in Spanish, in "Aljamiado" (Spanish in Arabic script), and in Arabic. He has published seven books, some of these being monographic studies and others scholarly editions of important Spanish Muslim texts.
A founding member of the journal Aljamía and director of the journal Sharq al-Andalus, he plays a key role in organizations and research programs in Spain and abroad, and has spent time as invited researcher in Tunis, Paris, Oxford and elsewhere.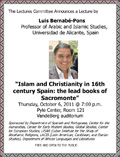 This free and public lecture is organized by the Department of Spanish and Portuguese and co-sponsored by the Lubar Institute for the Study of the Abrahamic Religions and the University Lectures Committee.

The White House Initiative and LISAR are proud to partner with the Muslim Student Association to bring the "Laugh in Peace" Tour to the UW-Madison on Thursday, March 8th from 7 to 9 PM at Varsity Hall II in Union South.
The New York Times declared that the Laugh in Peace Tour "had the audience convulsing." And that's just what to expect when comedians Azhar Usman, a Muslim, and Rabbi Bob Alper, a Jew, take the stage.
There's a reason why XM / Sirius satellite radio plays Vermont resident Rabbi Bob Alper's comedy bits several times daily, often sandwiched between Bob Newhart and Bill Cosby: Bob's unique background…he's an ordained rabbi who served congregations for fourteen years and holds a doctorate from Princeton Theological Seminary…prepared him well for a twenty-three year comedy career with wonderfully unique material presented in a way that's hilarious, sophisticated, and 100% clean.
Azhar Usman is perhaps the world's most famous American Muslim comedian. He was the subject of an entire episode of ABC's Nightline, and was featured on CBS Sunday Morning. He hails from Chicago, with roots from the Indian subcontinent, and has performed throughout the US and in numerous foreign countries with the "Allah Made Me Funny" comedy tour.
Together, Bob and Azhar perform at colleges, churches, synagogues, and theatres in a show that The Detroit Free Press calls "one of the most unusual and uplifting cross-cultural experiences you'll have this year."
The performance will be followed by an Q&A panel featuring the performers, lead by LISAR Assistant Director Ulrich Rosenhagen.
To learn more about "Laugh in Peace," visit bobalper.com/oddcouple.html