Badger Volunteer Interfaith Program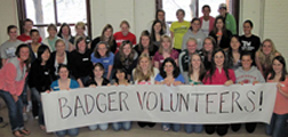 The Lubar Institute partners with the Badger Volunteer Program, run by the Morgridge Center for Public Service, to send interfaith teams of undergraduates into the Madison community on missions of public service.
Students belonging to the special LISAR interfaith teams participate in four structured reflection sessions with Institute staff to discuss the interfaith dimensions of their service experience.
In Spring 2013, one team is volunteering at Community GroundWorks, an urban agriculture initiative, while the second team works at International Outreach, which serves English-language learners.
For more information on the interfaith teams of Badger Volunteers, contact LISAR's Associate Director, Ulrich Rosenhagen, at rosenhagen@wisc.edu.