Co-Sponsored Events, 2012-2013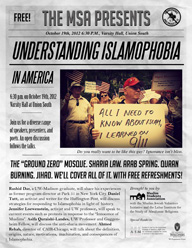 Friday, October 19, 6:30 p.m.
Varsity Hall
Union South
1308 Dayton Street
A round-table discussion on the "Ground Zero" Mosque, Sharia Law, the Arab Spring, Qur'an burning, Jihad, and more. An open conversation with audience participation follows the presentations.
Participants:
Rashid Dar: Former Program Director for the Park51 project and former LISAR Fellow
Daniel Hutt: Activist and writer for the Huffington Post
Asifa Quraishi: Associate Professor of Law and Middle East Studies, UW-Madison
Jennifer Loewenstein: Faculty Associate, Department of Sociology, UW-Madison
Ahmed Rehab: Director, CAIR-Chicago

Sponsored by the Muslim Students Association, with funding from the Associated Students of Madison and a Wisconsin Experience Grant, with additional support from the Muslim Jewish Volunteer Initiative and the Lubar Institute for the Study of the Abrahamic Religions.