Lecture, panel, and screening of documentary film
A Polite Bribe: An Apostle's Final Bid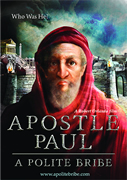 The Lubar Institute is co-sponsoring a series of events centered around the screening of a documentary film about the Apostle Paul. Read the story about this event featured in UW–Madison's weekly newsletter.
The main presenter is the UW's Religious Studies Program; please also see their main information page here for accurate details of these events. For dinner arrangements between the lecture and film, or for reserved theater seating for 12 or more, contact the UW Religious Studies Program by January 21: rsp@wisc.edu or 608-265-1854. Parking is available in the Union South Garage off Dayton Street.
All events are free and open to the public.
• •
Wednesday, January 29 | 4:30 pm to 5:45 pm
Union South (check "Today in the Union/TITU" for room assignment); 1308 W. Dayton St.
PUBLIC LECTURE
"What Happened to Paul and Why it Matters to Christians, Jews and the Media"
Filmmaker Robert Orlando and a panel of UW faculty, including Lubar Institute director Prof. Charles Cohen (History; Religious Studies); Prof. Rob Howard (Communication Arts); and Prof. Joe Marchal (Kingdon Fellow, UW Institute for Research in the Humanities).
Wednesday, January 29 | 7:00 pm
Union South Marquee Theater (second floor); 1308 W. Dayton St.
FILM SCREENING
A Polite Bribe: An Apostle's Final Bid
dir. Robert Orlando (attending the screening in person)
"Thirty years after the death of Christ, the future of the Christian church teetered on faulty ground. Two factions, the Apostle Paul's Gentile Churches and the Judean Church lead by Jesus' own brother James… Both groups had clearly emerged with very different visions for the mission, and were headed toward a final showdown: a mutually destructive fracture that would have ended the Church in its infancy, if not for one man. Now for the first time, learn how one man's vision kept the early Christian movement together. How one man, defied the very followers of Jesus himself… and in the end left his homeland to conquer an Empire.
[watch the trailer | official web site]
Thursday, January 30 | 9:30 am to 11:00 am
Mosse Humanities Building, Room 4233; 455 N. Park St.
Coffee and conversation with filmmaker Robert Orlando