Roundtable discussion:
The Jihad of Meaning:
Islam's Struggle with Islamic Extremism

Thursday, April 9, 2015
7:00 pm to 8:30 pm
Gordon Commons | Concerto Room
770 W. Dayton St.
University of Wisconsin–Madison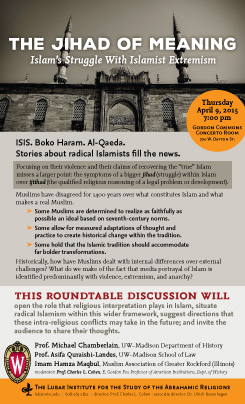 click to download poster PDF
ISIS. Boko Haram. Al-Qaeda. Stories about radical Islamists fill the news.
Focusing on their violence and their claims of recovering the "true" Islam misses a larger point: the symptoms of a bigger jihad (struggle) within Islam over ijtihad (the qualified religious reasoning of a legal problem or development).
Muslims have disagreed for 1400 years over what constitutes Islam and what makes a real Muslim.
Some Muslims are determined to realize as faithfully as possible an ideal based on seventh-century norms.
Some allow for measured adaptations of thought and practice to create historical change within the tradition.
Some hold that the Islamic tradition should accommodate far bolder transformations.
Historically, how have Muslims dealt with internal differences over external challenges? What do we make of the fact that media portrayal of Islam is identified predominantly with violence, extremism and anarchy?
This roundtable discussion will open the role that religious interpretation plays in Islam, situate radical Islamism within this wider framework, suggest directions that these intra-religious conflicts may take in the future; and invite the audience to share their thoughts.
Prof. Michael Chamberlain, UW–Madison Department of History
Prof. Asifa Quraishi-Landes, UW–Madison School of Law
Imam Hamza Maqbul, Muslim Association of Greater Rockford (Illinois)
moderator: Prof. Charles L. Cohen, E. Gordon Fox Professor of American Institutions, UW–Madison Department of History and Director, Lubar Institute